Handcrafted Jewels Rope Horse Tack

www.handcraftedjewls.com
---
EXTRA NOSE KNOT ROPE HALTERS
---
Rope Horse Halters
Lead Ropes/Longe Lines
Bitless Bridles
Reins
Training Aids/Sticks
Instructions
Misc.
Other Pages
Mail Order
These are Hand Tied Rope Halters.
Tied with Blood and Fiador Chin Knots
---
The reason these rope halters work so well, is because they work off of pressure points on the horses head. Have you ever heard LESS is More? Well when it comes to halters that would be the case as well. Do a simple test. Poke yourself with one finger and then with your fist, which applies more pressure? Your finger of course. These halters work on that same principle, it is not very comfortable for them to lean or pull on a halter made from a smaller diameter material. These halters will not break if your horse should get it caught on something, so please don't leave on your horses when unattended.
---
Choose tack that has been designed and tested by horseman specifically with your horse in mind.

Our double braided polyester rope has been designed to make horse tack from, not all marine ropes work well for the equine world.

Don't mistake the price for quality, since I buy directly from a mill here in the United States, there is no middle man, therefore I can offer my tack at a cheaper price for exceptional quality.

Double Braided Polyester ropes are;

* firm or soft and durable unlike cheap halter cords and webbing, Polyester will not harden or powder with age. It is unaffected by water, will not rot, mold or mildew and is resistant to most acids and oils.

Cheap polypropylene halter cords and webbing have a much lower breaking strain (about 30% less) and lose another 30% per year through age. Polyester ropes lose only 3% per year making ropes that can be relied on not to break.

Knots tied in polyester will hold tight, but can always be undone should adjustment be required.

* fully washable when it gets dirty just throw it into the washing machine to look good as new. Polyester can be washed with normal household detergents in warm water.

* color fast will have only minor fading over the long life of the rope.

* low abrasion polyester produces less friction so that means a greatly reduced chance of rope burn and less abrasion on your horse's skin. Combined with a comfortable weight in the hand our Double Braid rope is perfect for all natural horsemanship techniques.

* 100% polyester that will be kind and strong, last many years. Polyester is the material that most marine ropes are made from and is used on the outside jacket of climbing ropes to protect them from abrasion. Even high-tech exotic ropes like spectra use polyester to protect them from wear and UV light.

Handcrafted Jewels Rope Horse Tack has been personally using and hand making tack here in the USA with PRIDE since 2002.

We know what excellent quality rope is and are excited about working with a mill to produce rope made for the equine industry.

We are excited that we can still carry our complete color line since switching to the new mill.

Here are the reasons to purchase your horse tack here.

1. With us you get the best quality at the best value!

2. All rope and tack is Handmade and Handcrafted in America!

3. If you can find the same quality at a better deal we will match it!

3/16" Stiff Halter Cord

Similar to the rope the professional use to use.

I had this rope special made at the mill.

I think you will find it is far more superior to other small diameter stiff halter cords on the market today.

It makes a fantastic halter!

Machine Washable!
---
All halters made from the FIRM or SOFT rope now feature a Knot Keeper above the fiador knot to keep that pesky knot the way it was made.
The fiador knot can still be adjusted, simply slide the keeper up and make your adjustments and then side it back down on top of the Fiador.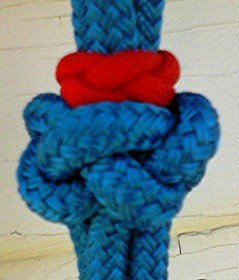 Note: Most keepers are made the base color of the halter, only made in red on the blue halter so it could be seen.
---
---
Please read carefully before you order!!!!!!
Due to a large number of returns on Mini and Draft Halters I no longer accept returns on them, take measurements!!!!
If you have questions please email me other wise add your measurements in the note area at checkout.
It saves all of us a lot of time and money.
If in doubt about what size you need for your horse, check this page out for measuring instructions. Measuring Instructions
PLEASE ONLY ORDER A DRAFT HALTER IF YOUR HORSE TRULY IS A DRAFT HORSE, OTHER WISE ORDER A LARGE ADULT.
I get a lot of returns on Draft halters, because they are ordered for Draft Crosses and they are too large for them.
The Large Adult size fits a horse with a pretty large head and will fit most Draft Crosses.
The Regular size fits most horses, if your horse has a fine head we would suggest you order our Arab/Yearling size.
If you have a Yearling that has a smaller type head we suggest you order the Large Weanling size.
The above are just guide lines, we always suggest you take measurements to be sure what size your horse will need.
---
1/4" Rope Halter

Double Braid

FIRM

ONLY IN WHITE FLECKED

COLORS

In these colors!

ONLY IN WHITE FLECKED

COLORS

Please type in color: White, White/Black, White/Blue, White/Green, White/Purple, White/Pink, White/Burgundy, White/Brown, White/Grey, White/Tan

3/16" Rope Halter

Halter Cord

STIFF

In these 3/16" colors!

Black, Red, Green, Pink, Purple, Blue, Burgundy, Brown, Tan, Navy, Turquoise, Orange, Neon Green
1/4" Rope Halter

Double Braid

SOFT

White, Black, Blue, Red, Green, Purple, Pink, Brown, Orange, Neon Green,

Navy Blue, Burgundy, Turquoise, Bk/Blue, Bk/Red, Bk/Purple, Bk/Pink, Bk/Yellow,

Bk/Neon Green, Bk/Brown, Bk/Turquoise,

Blue/Neon Green, Blue/Forset Green, Purple/Neon Green, Purple/Orange, Red/Grey

Purple/Yellow, Brown/Pink, Brown/Blue, Brown/Tan, Brown/Yellow,

Wh/Black, Wh/Blue, Wh/Red, Wh/Green, Wh/Purple,

Wh/Pink, Wh/Tan, Wh/Grey
---
I accept credit cards through PayPal, Money Orders, and Personal Checks (10 working days to clear bank before shipping)
This site is maintained by Keitha in her spare time! So bear with me!
Prices subject to change, but we try to keep them reasonable.
Handcrafted Jewels Rope Horse Tack. All rights reserved.
---