Handcrafted Jewels Rope Horse Tack

www.handcraftedjewls.com
---
Customer Links
---
Rope Horse Halters
Open Nose Halter
Lead Ropes/Longe Lines
Bitless Bridles
Reins
Training Aids/Sticks
Bulk Rope
Metal Items
Leather
Instructions
Misc.
Barrel Racing & Roping Items
Martingales
Other Pages
Mail Order
As much as I hate all those links to click on other peoples web sites.
Ones that are traded and you sometimes benefit from them if they are clicked on your site etc...
These links are not about that at all!
These links are links to sites that currently purchase products from me that are out there to help our ever loving and trusting friend the horse.
So please visit them, support them, and help out if you can.
Maybe you can even find a trainer in your area!!!
Thank You
Keitha
---
Less is More - Natural Horsemanship Training
"NO Whips.. NO Bits... NO Saddle... NO Spurs"
Michael Gonzalez in Lafayette, Indiana
http://www.lessismorehorse.com
Lots of exciting things going on on his website, check it out!!
---
Juniper Desert Arabians
Breeders of quality Blue-Black Arabians
http://www.juniperdesertarabians.com/home.html

Tony & Dottie Linville

Rushville, IN
Clinics and Training Services!!

linville@juniperdesertarabians.com
765.561.2521
---

Natural Horsemanship vs. Horse-Mind-Ship™
Robert Sadowski
Peace Haven Farm
71 Pleasant Street - Plainfield, MA 01070
Telephone: 413.634.8800
Fax: 413.634.5790
"Horse-Mind-Ship™ is the art of the human understanding his own Personality, state of being, his mind, instincts and behavior then studying and understanding the horse's Equinality™, state of being, his mind, instincts, behavior and achieving a heightened awareness by the human of the state of being where a horse exists. Horse-Mind-Ship™ is achieving a connection, mutual acceptance and meaningful communication between the horse's mind and the human's mind. Getting into and communicating with the horse's mind is the pathway to his heart; exactly what every horse owner dreams of achieving. Problems with horses are not problems with horses; problems with horses are problems with the human's relationship with the horse! "Horse-Mind-Ship™" is the next level of evolution of Natural Horsemanship without the need to use the word "Natural"! It is an elevated state of being and awareness with a horse.
Joining your Personality with his Equinality™.

---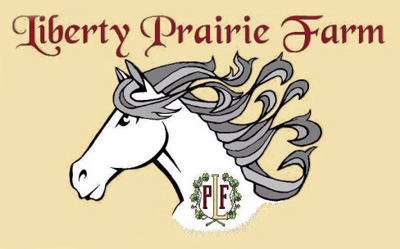 Liberty Prarie Farm

Mary and Kevin Price
7003 State Rt. 140
Edwardsville, IL 62025

Barn/Cell: (618) 781-1468
Office: (618) 692-1985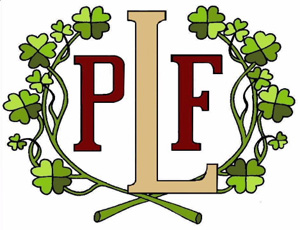 Since 1995 we've striven to create a natural horse care facility free from breed or discipline prejudices.
Our Focus is Natural Horsemanship and the bond it creates between horse & rider.
To achieve this, we vow to keep our equine partners naturally healthy & happy (mentally and physically) for a long life of service and friendship in the arena and out on the trails. We are constantly educating ourselves; growing and improving our farm in order to educate our boarders, students, & visitors. We pride ourselves on our hospitality and home style atmosphere, making everyone who visits our farm feel like they are part of the family here at LPF.
Come visit us!!!
---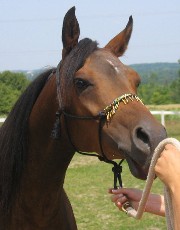 Tori and her Bling!
Decorative Arab Rope Halters
These are made after you order, so contact her early and give her plenty of time to make one for you.
To get your custom one made please contact:
Kristi Hatzinger
3330 E Grange Avenue
Cudahy, WI 53110
cell phone (414)807-6988
---
HELGE'S HORSE TRAINING
Firm + Fair + Fun = Respect

Natural Methods for Horse & Rider

Natural Horsemanship is communicating in a way that makes the most sense to the horse. The horse's language is simple but not always easy. It is a combination of body language, understanding herd pecking order, and using the right amount of pressure, but more importantly, the right amount of release to get your point across. It's about making your idea become your horse's idea.
Helge Buflod

Waynesville, Ohio
937-689-9475
---

We're a small facility whose goal is to produce right-minded individuals with correct conformation, who typify the versatility and good looks for which the Stock Horse is known. All our foals are imprinted, and handled frequently. We specialize in Reining and Reined Cowhorse prospects. Cruise though the Bear Stump Ranch web site, and see where your next performance horse might be!
Lin Ellis
1250 West 450N
Lebanon, IN 46052
(317) 201-5555
---
"FOR THE HORSE" RANCH"
Vaught Family Natural Horsemanship
Tony & Jennifer Vaught
Developing Horses Naturally for Practical Purpose
Principles of Natural Horsemanship are used at "For The Horse" Ranch
Tony and Jennifer Vaught are committed to providing a harmonious relationship between horse and rider. They will teach you to "See What They See". This can be achieved in different ways. Of course the best possible situation would be to have both the horse and rider come together to "For the Horse" Ranch for lessons, clinics or an educational opportunity to ride with Tony and Jenny for a day, a week, a month or a year.
24622 E. 1980 Rd
Fair Play, MO 65649
Jennifer Vaught @ 417-399-4146
---
LAUREN WOODARD
Exceptional Horsemanship ... mostly like no one else
Solving People's Horse Problems and Horse's People Problems
Exceptional Horsemanship - Where horses hope their people go.
How far can you go with your horse? Are you aiming high enough? Do you want it to be fun and fascinating instead of work with a grimace to produce a result? Are you getting the results you desire?
Lauren Woodard has been teaching and training for more than 30 years. She has a strong background in hunter/jumper and dressage with trainers of Grand Prix and Olympic caliber, and has also worked on a cattle ranch in the mountains of Arizona.

LAUREN WOODARD
Scottsdale, AZ
480.951.1546

www.exceptionalhorsemanship.com
www.laurens-horsing-thoughts.blogspot.com
lauren@exceptionalhorsemanship.com
---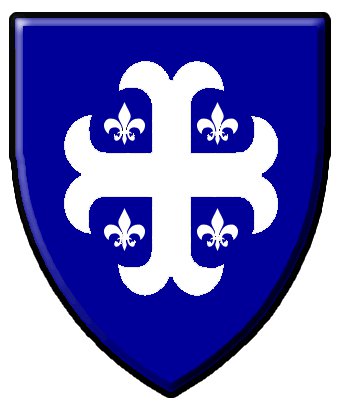 Pure Harmony Horse Training
Helping owners enjoy their horses and horses enjoy their owners. It's all about having fun and staying safe with our horses. Customized programs to fit your needs. Private and group lessons available. Horse training available for all disciplines.
Lisa Wharff
4195 Sierra Road, San Jose, CA 95132
408-373-8383
---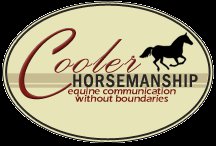 Cooler Horsemanship, LLC
Equine Communication without Boundries
Cooler Horsemanship, a natural horsemanship program based on the ATRUM Method - Attention, Trust, Respect, Understanding and Motivation , is structured to assist horse owners in discovering and expanding their relationship with their horse. Based on the belief that every horse owner has the ability to build a relationship of trust and friendship with their horse, Cooler Horsemanship provides a variety of resources for horse owners to learn and grow with. Cooler Horsemanship is not selective - it can and should be used with every breed of horse and every horse discipline.
Went to Road to the Horse in 2014 & 2015
Hampstead, NC 28443
Please contact at:
James, (843) 227-2120
Kate, (843) 304-3407
Please call if you would like to schedule a visit to White Horse Farm

http://www.coolerhorsemanship.com

---
NATURAL HORSEMANSHIP WITH TIM HAYES
&
http://www.hayesisforhorses.com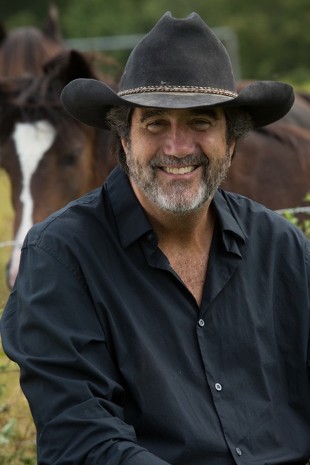 Tim Hayes is an internationally recognized Natural Horsemanship Clinician working throughout the United States, Canada, Europe and Mexico He conducts 1 & 2-DAY Clinics, Classes, Private Sessions at any locations for both English and Western riders of all levels and all disciplines. He also offers Demonstrations, Book Talks and Signings and is available for Nonprofit Organization Fundraiser Clinics and Events.
He is a visiting instructor at The University of Vermont & The University of Connecticut Departments of Animal Science. He is a Contributing Expert Consultant & Columnist for: Equus and Equine Journal Magazines. He is the author of the best seller RIDING HOME ~ The Power of Horses To Heal.
Visit: http://www.ridinghome.com

CLINICS ~ PRIVATE SESSIONS ~ DVD'S ~ BOOKS ~ TOOLS ~ CONTACT TIM AT
http://www.hayesisforhorses.com
---
If you purchase products from us and you are not listed here please email me and I will add your site.
Contact Keitha
Handcrafted Jewels Rope Horse Tack. All rights reserved.