Handcrafted Jewels Rope Horse Tack

www.handcraftedjewls.com
---
Snaps
---
Rope Horse Halters
Open Nose Halter
Lead Ropes/Longe Lines
Bitless Bridles
Reins
Training Aids/Sticks
Bulk Rope
Metal Items
Leather
Instructions
Misc.
Barrel Racing & Roping Items
Martingales
Other Pages
Mail Order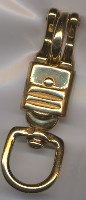 Brass Panic Snap - 3/4" inside Diameter Bottom - 1/2" inside Diameter Top
Overall Length 3 1/2"
$4.00
---
I accept credit cards through PayPal, Money Orders, and Personal Checks (10 working days to clear bank before shipping)
This site is maintained by Keitha in her spare time! So bear with me!
Prices subject to change, but we try to keep them reasonable.
Handcrafted Jewels Rope Horse Tack. All rights reserved.